Services
Build beautiful & scalable digital product with us.
Here at CalypsoTech we build platforms that are fast, scalable and secure. We use the latest technologies to build the MVP for your product, and we make sure that it is built to last. We offer a wide range of services, from mobile apps to websites to business automation tools. We have a team of experts that will help you build your product from the ground up, and we will be there every step of the way.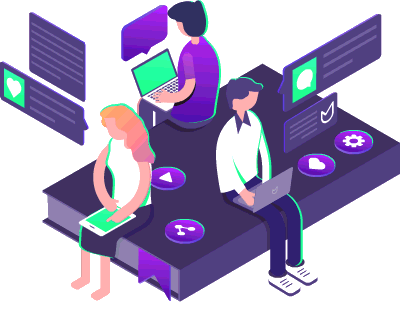 How we work with our clients.
At calypsotech.dev, we offer comprehensive services to bring your digital product to life. Here are the key steps we take:
1. Discovery and Specification
We begin by understanding your vision, target audience, and business goals. Through in-depth discussions and research, we create a detailed project blueprint, ensuring alignment with your objectives.
2. Prototyping and MVP Development
We take a practical approach, creating prototypes and MVPs to validate ideas quickly. Through an iterative process, we gather user feedback, refine features, and shape the final product.
Our experienced team provides guidance throughout your software journey. We offer comprehensive consultation services, sharing industry insights and best practices to ensure your product's success.
The typical product development process.
At calypsotech.dev, we have a streamlined approach to building digital products. Here's a brief overview of our process:
Launch & Post-Launch Support
---
Our process

begins with in-depth discovery and planning to understand your vision, target audience, and business goals. Our expert designers create visually appealing interfaces that prioritize user-centered design and seamless user experiences. We follow an agile development methodology, breaking down projects into manageable tasks for flexibility and faster iterations. Through iterative prototyping and user feedback, we refine features and ensure the final product meets expectations. Security, quality assurance, marketing strategies, and post-launch support are integral parts of our service. With transparent communication and regular updates, we deliver digital products that surpass user expectations and align with your goals. Upon launch if you've already got a CTO, we help them get up to speed with the codebase and the architecture.
Whatever you need, we've got you covered.
From idea to deployment.
What works best for you?
We've got a package for every stage of your startup journey.
Free 30min. Consultation
FREE
Want to discuss your project? Book a free 30-minute consultation with us.
Talk about your business goals and needs
Get insights and advice from our experts
Get feedback on your project idea
Understand the startup process
Plan the next stage
Book a FREE call
Roadmap & Planning
£1199
Have the idea down but don't know where to go next? We'll work closely with you to generate a structured plan to present to investors.
Idea Structuring
Roadmap Development
Value Proposition Analysis
Market Research and Validation
Tech Architecture Design
Monetization Strategy
Investor-Ready Documentation
Barclays Eagle-Labs network & investor connections
Pitch Deck Assistance
Industry Expertise
100% discount if you work with us on the implementation after
Pay & Book Onboarding Call
Web Platform / SaaS
Enquire for a quote
Structure and funding secured? We'll design, develop and deploy your MVP!
Web Design
Continous Feedback & Iteration on Design
Next.js development with React & TypeScript
Authentication
Content Management System
Cloud Database, and Storage
Domain registration
Development, Staging and Production Deployments
Lifetime free hosting
iOS & Android App
Enquire for a quote
Structure & funding secured? Let's get building your cross-platform application!
Mobile Application Design
Continous Feedback & Iteration on Design
iOS & Android Native App development, simultaneously
React Native development with TypeScript
Authentication
Content Management System
Cloud Database, and Storage
App Store Publishing
Google Play Publishing
Subscription / In-App purchase setup
Scale up with us
Enquire for a quote
Already have an MVP built, but the support and technology stack just isn't cutting it anymore? We'll take it over from here.
Analysis and Consultation
Process Mapping and Optimization
Bug fixing
Feature roadmap & development
Deployment and Training
Security and Compliance
Analytics and Reporting
Get a quote
Work with our partners:
We work with a variety of clients, from startups to multinational corporations to take your business to the next level, not just in terms of technology, but also in terms of business strategy. Check out some of our partners below: